I'll be the first to admit that having a garden utility cart makes a world of difference when working in the backyard. Up until a few years ago, I did not own a garden utility cart. In the past, I grabbed my children's wagon when I really needed help moving supplies. Due to the debris that was left behind, a cleanup job was always required for their wagon. Now that I own my garden utility cart, I can tell you that it is a huge improvement over a wagon and is truly fabulous. Because it is made of mesh sides and bottom, any debris can be easily washed off of the cart.
Having this cart saves my back and shoulders! Even moving multiple containers of flowers or plants is much easier. Of course flowers are lightweight, but I frequently purchase multiple flats or containers of flowers for planting. Now, I simply transfer everything from my car to the cart and roll it to the flower beds. So much easier to roll the cart than carry multiple trays of flowers from bed to bed.
Because the garden utility cart has an 800 lb. capacity, I can load it down with bags of soil or mulch and roll them to each bed. I can put everything I need on the cart and roll it from place to place. Nor more running back and forth to my pile of supplies because now I bring it with me.
Recommended Garden Utility Cart
You may be tempted to buy the cheaper 400 lb capacity utility cart believing you will never need more weight capacity. However, don't go too light. The steel mesh is not as strong in the smaller capacity utility carts and customers complain that they are too flimsy.
Also, the sides can be removed to accommodate larger bags or supplies. The GroundWork garden cart turns like a wagon. Simply pull the handle in the direction you wish to go and it will follow. The mesh bottom makes for a fast and easy clean-up.
As you can see in the photo in the introduction, I selected and love the GroundWork 800 lb. capacity garden cart. It has served us well for over a year. If I had to replace it, I would choose the same brand and capacity again.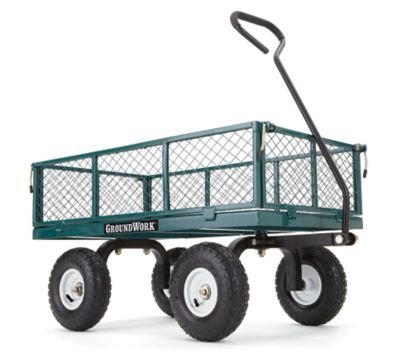 GroundWork 800 lb. Capacity Steel Garden Cart
in stock [More]
More Garden Carts
Originally posted 2018-04-24 17:57:53.